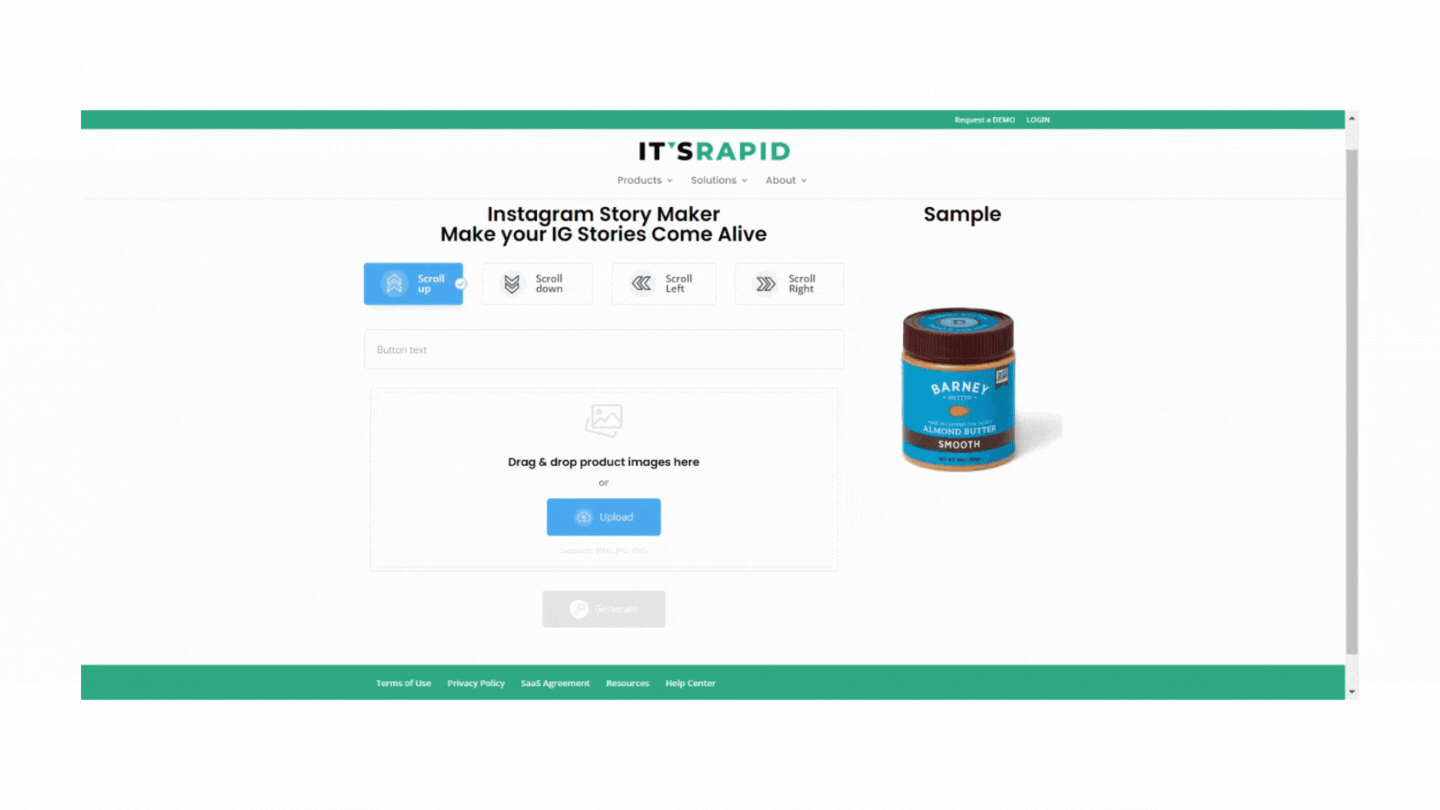 The ITSRAPID Instagram Story Maker helps you do just that.
Does creating Instagram stories for your store wear you out? 
You might find creating stories regularly for your eCommerce store a painfully tedious exercise, especially if designing is not your thing. And it might get expensive because you'll have to hire someone to design them and create Ads around them. 
 Luckily, we built the ITSRAPID Instagram Story Maker for business owners like you. ITSRAPID's massive library is pre-loaded with Insta-ready templates, images, and backgrounds. You can get started designing conversion-boosting Instagram stories in minutes. 
Come; seek inspiration for your Ad campaigns, brand stories, a flash sale, a birthday offer, or the customary holiday and seasonal sales.  
 If you're not leveraging Instagram to connect with your audience, you're leaving lots of easy wins. Why? 
Because about 2 billion people use Instagram. And more than 50% of them use it to discover new products and claim to have become more interested in a brand or product after seeing it in Instagram Stories or ads.
Come; seek inspiration for your Ad campaigns, brand stories, a flash sale, a birthday offer, or the customary holiday and seasonal sales. 
Stories connect with us at the level of the soul. – Steven Pressfield. 
It's natural for us to be drawn to stories. With already 25 million businesses on this platform, your brand stories must not only stay true to your brand values but also deeply connect with your customers. 
Top 5 benefits of using IG stories and Ads to grow your E-Commerce business
1. Builds Brand Awareness

Almost everyone (including thousands of your customers) is hanging out on Instagram. If you don't capture your customer's attention, your competitors will easily scoop out all the top cream of customers.
By building brand awareness, you're taking the first crucial step in creating a solid social media marketing strategy for your E-Commerce business.
Here are three tips to get started.
Post content at least once a day to build a steady following.

Create your unique brand hashtag and use it on every post, story, or Ad.
Your brand hashtag makes it easy for customers to find and tag you in their stories.
Establish your brand personality or identity. Find what tone speaks to your customers.
Use photos and videos that align with your brand voice.
Want to try mixing and matching product images and backgrounds in our Instagram story creator tool? Sure, let me try!
2. Boost Traffic
 Impactful stories on Instagram directly translate to a higher reach. Instagram stories can motivate your audience to learn more about your brand. 
Three questions to keep in mind to drive organic traffic to your store through Instagram.
Have you included your E-Commerce store link and relevant hashtags in your bio, stories, and Ads?

Are you using

link stickers

in stories to direct users to the exact product page or checkout page?


Remember:

The fewer the steps to checkout, the more sales you generate.

Do your posts include videos and animated stories? Because such posts engage more customers than static shots.
The ITSRAPID story creator can help you design animated stories for your Instagram posts in minutes.
Try it now.
3. Grow Your Customer base
Instagram stories are an excellent lead generation tool for E-Commerce. With powerful Instagram stories, it's easier to get noticed, attract quality leads and serve more people than ever before.

Here are three time-tested ideas to expand your brand outreach.
Post five-star reviews and testimonial screenshots as stories and shout out to loyal customers by tagging them. Don't forget video testimonials.

Host giveaways, run contests, flash sales and announce product launches.

Collaborate with brandfluencers in your niche. They can be your brand ambassadors and boost loyal followers big time.



Ensure the images and videos you post build that excitement for your followers.
4. Know Your Customer Preferences
Many E-Commerce businesses fail to take off due to improper product-market fit. Also, the fit needs to be adjusted every so often as trends change. You will have to tweak the messaging in your bio and Instagram stories based on your data. 
Try to figure out answers to questions like:
Why exactly do your customers love your products? 

Which products have the highest ROI?

What would they like to see in the next version?

What are the demographics of your followers?

When are your consumers most active online?
You'll discover in-depth insights about your customer persona with some research. You can attract more genuine leads to your store by keeping your stories in line with it.
Let us help you discover the templates that can bring you the most sales.
5. Drive More Sales
Due to the visual nature of Instagram, people find it appealing to scour through niche collections of whatever they are looking for. 
Instagram is an excellent place to market commercial products like home decor, pet supplies, beauty, fashion, health and fitness, recipes, antiques, paintings, and many more.
Pro tips for running scroll-stopping Instagram ads for your E-Commerce store.
Create stunning imagery and videos.
With professionally edited Instagram pictures and videos, you can focus on products and
offers you want to highlight, drastically improving the clickthrough rate (CTR) and conversions.
You can run a variety of Ads to showcase your complete store catalog.
You could try Photo Ads, Carousel Ads, Collection Ads, Messenger Ads, Stories Ads,
and Instagram Reels Ads and decide what suits your brand the best.

A handy

banner builder

,

image builder

, and

video creator

optimized for popular retail networks can work wonders
to spring effective ads quickly.
Instagram Ads are gaining traction now compared to Google ads, especially in products targeting a younger audience in the E-Commerce space. The above tips will help you develop a rewarding social media marketing strategy in the long term.
The ITSRAPID Instagram story creator is what your business needs to level up your Instagram game. 
Be picky, swap template elements, or play around and design your own. Learn more.